THE DOGRUN
a place to share ideas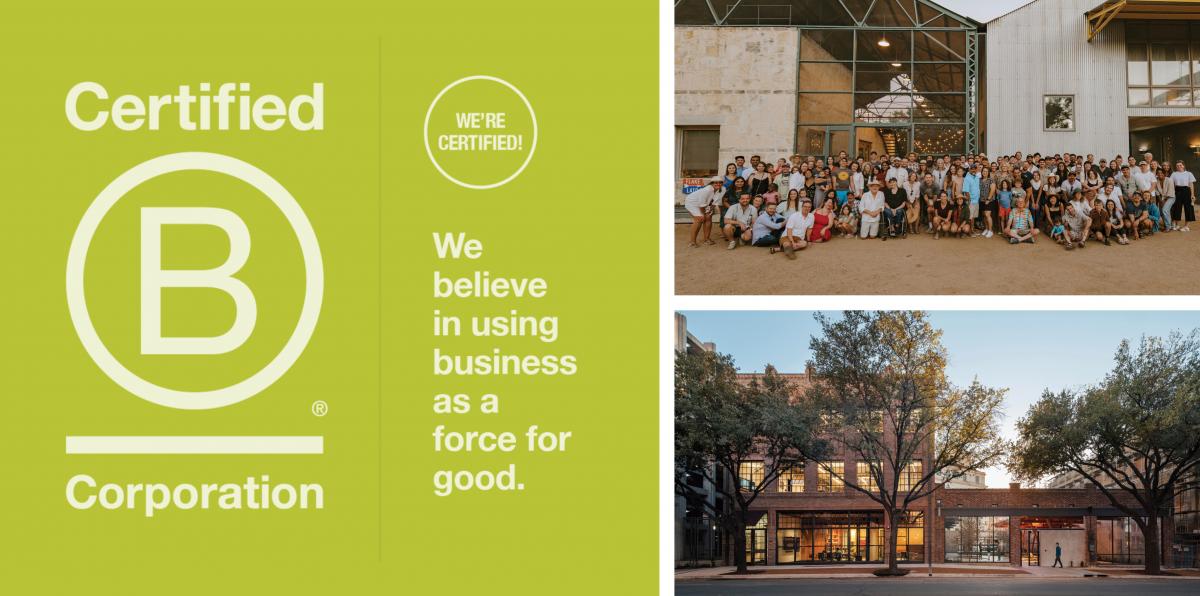 Posted by Mary Beth Lineberry on 7/19/23 at 3:56 pm
Applying for B Corp certification is a comprehensive process that, for Lake|Flato, took a team effort that was years in the making. Beyond rigorously assessing our business operations, B Corp certification has helped us refine how we measure the impact of our work on the wellbeing of our employees, our community, and the environment through quantifiable initiatives and outcomes.
To contextualize how being a B Corporation animates our firm's mission and guides our decision-making, we interviewed three firm leaders who oversee our environmental performance initiatives and equity, diversity, and inclusion practices: Heather Holdridge (Associate Partner, Director of Design Performance), Kate Sector (Design Performance Manager), and Tenna Florian (Partner). In the Q&A below, they provide insight into our process for pursuing and achieving B Corp and what it means for our future commitments as a firm, community partner, and industry leader.
1. WHAT WERE SOME MOTIVATIONS FOR LAKE|FLATO EMBARKING ON B CORP CERTIFICATION? WHY NOW?
Lake|Flato was motivated to pursue B Corp certification to elevate and enhance our commitment to environmental performance, social equity, and transparency. Sustainability has always been foundational to Lake|Flato's design approach, and we have made several public commitments to environmental performance, including the 2030 Challenge and AIA 2030 Commitment. Our firm views social equity as being integral to sustainability, but measuring our performance specific to this has been more challenging to evaluate. 
Lake|Flato earned the Just label in 2019 as a first step in objectively measuring our social justice, equity, diversity, and inclusion practices. B Corp certification's scope has more breadth and depth – the required time and effort to verify its scope ensures that social and environmental justice is not just integrated into the projects we design but also in our daily operations and firm culture so we can live out our organizational purpose every day.
As the saying goes, "if you can measure it, you can improve it." By undergoing B Corp certification, Lake|Flato now has a thorough compilation of calculations, policies, and other evidence of our commitment to environmental and social performance. We now also have an objective baseline to measure our progress against, so we can continue to improve our operations and practices.
2. WHAT WAS THE PROCESS LAKE|FLATO UNDERWENT TO ACHIEVE CERTIFICATION? HOW DID THE FIRM PERFORM, AND WHAT LESSONS WERE LEARNED? 
To become a B Corp, Lake|Flato underwent a comprehensive assessment of five key categories: governance, workers, community, environment, and customers. Additionally, we legally re-structured our business in a way that prioritizes the interests of all stakeholders including employees, customers, the community, and the environment.
Pursuing B Corp certification has highlighted both our strengths and areas for improvement, prompting us to pay attention to various aspects of Lake|Flato's business. It has reinforced the importance of tracking information and building a database to measure and enhance our performance metrics, as it is through tracking that we can effectively identify areas for growth and make meaningful improvements.
In our assessment of the five categories, we excelled in several areas:
GOVERNANCE: We have a clear mission and set of values that prioritize environmental and social impact. As an example, we developed a Design Performance Action Plan that focuses on setting clear goals and assigned a champion per studio to set yearly targets by project work.
WORKERS: Our commitment to career development and employee satisfaction is evident through continuing education and licensure support and our pursuit of additional office certifications focused on human health and wellness such as WELL.
COMMUNITY: Our community efforts include promoting equity, diversity, and inclusion within our office and through outreach efforts that encourage civic participation. We contribute 1% of our design staff's total project hours toward pro bono design work focused on nonprofit clients working for the public good. And we support our employees with opportunities and dedicated time for community service, hosting community events, engaging with local universities, participating in research and academic activities, and making contributions to local policy.
ENVIRONMENTAL IMPACT: We design high-performance buildings and practice what we preach by pursuing certifications for our own office such as Zero Carbon certification through the International Living Future Institute.
CUSTOMERS: Architecture is inherently customer focused, but we go above and beyond through measures such as post-occupancy evaluations to ensure our buildings are performing as they were designed and our clients are experiencing the intended benefits of those designs.
3. HOW DOES BEING A B CORP LEAD LAKE|FLATO TOWARD ADDRESSING ISSUES IN OUR CULTURE AND PROFESSION? 
Becoming a B Corp allows Lake|Flato to address significant cultural and professional issues like climate change, inequality, and ethical business practices by providing a framework and assessment for sustainable and socially responsible practices.
B Corp certification is particularly important for architecture firms as they play a critical role in shaping the built environment. Architecture can have a negative impact on the environment and society through factors such as high energy consumption, greenhouse gas emissions, resource depletion, utilization of unhealthy building materials, non-inclusive design, and more.
By integrating sustainable design principles, addressing social issues, and promoting ethical practices through B Corp certification, Lake|Flato actively contributes to a more sustainable and responsible architectural profession. Establishing best practices in our own firm ensures that we have diversity of thought in our design process, which yields more innovative, inclusive ideas.
4. WHAT ADVICE WOULD YOU SHARE WITH OTHER COMPANIES LOOKING TO PURSUE B CORP CERTIFICATION? 
B Corp certification requires input and documentation on a broad range of sustainability, human resources, facilities, and financial topics, so we would recommend that firms approach this effort as a human resources and leadership opportunity rather than as a sustainability initiative. The submission process required close collaboration between firm leadership and our Operations, Human Resources, Finance, and Design Performance teams. The process requires significant time, effort, and cooperation, but the detailed data and documentation we now have on our firm's holistic operations have been instrumental to understanding and improving our practice.
5. HOW DOES B CORP IMPACT OUR FUTURE PRIORITIES AS A FIRM AND INDUSTRY LEADER?  
As we continue to grow and evolve as a firm, B Corp is not only a measuring stick to gauge how we are doing, but it also serves as a guide for how we can do better. The broad ranging considerations for achieving and maintaining B Corp encourages us to evaluate how we can do more to provide interconnectivity between initiatives focused on our work, our practice, and the environment. 
As one example of how we are doing this work now: we're applying our internal EDI training efforts to inform our work, from the initial steps of client and community engagement all the way to our thinking on how we can design space to be more thoughtful and inclusive.