THE DOGRUN
a place to share ideas

Posted by SChing on 4/13/17 at 10:15 am
[Lake Flato Design Team, Grace Boudewyns, Jonathan Smith, and Kerry Phillips, at the Fur Ball]
"Situated in your backyard, The Arf Residence is envisioned as a place that evokes the playfulness of summer by the lake and emphasizes exterior living spaces. A broad welcoming front porch and a green roof allow the house to keep things cool in the summer. The green roof is removable in trays to keep the overall weight down and to simplify maintenance. The Arf Residence features a powder coated steel structure for years of durability. Materials were sourced locally, with a common regional palette that naturally blends into the surrounding landscape. The wall siding features a salvaged local Cypress, while the floor is a salvaged Cedar to keep the bugs at bay. After a storm, fresh rain water is provided via a gutter and rain chain at the rear of the structure straight into your dog's bowl."  The Arf Residence is a non-profit doghouse realized by Lake Flato Architects and Rubiola Construction to be auctioned off in an effort to raise funds for the Animal Defense League of Texas.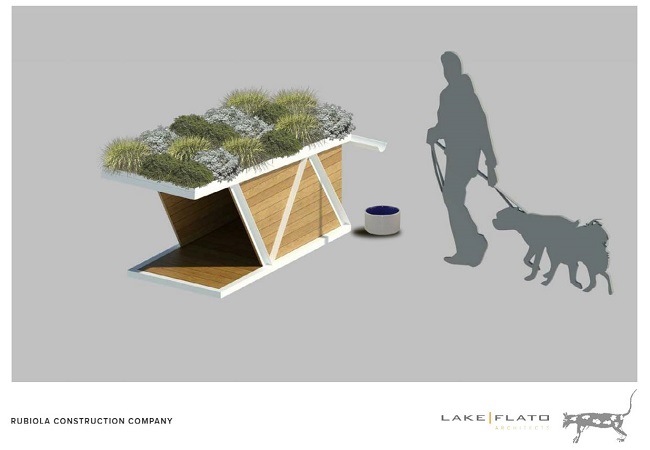 The Concept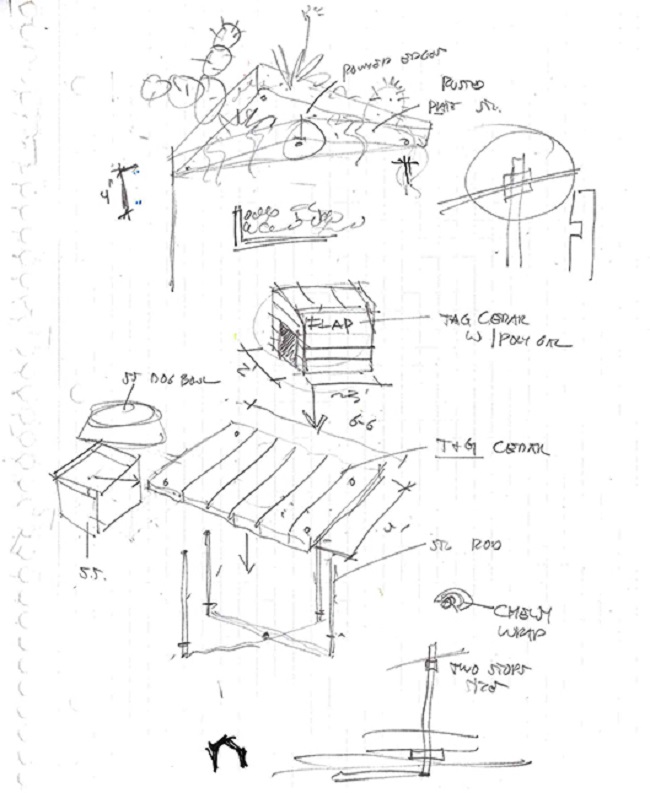 [Early Conceptual Sketches]
  The design started with an Integrated Design Charrette to establish some dog friendly sustainability design goals: 1)      Shade 2)      Water collection 3)      Daylight 4)      Ventilation 5)      No red-list materials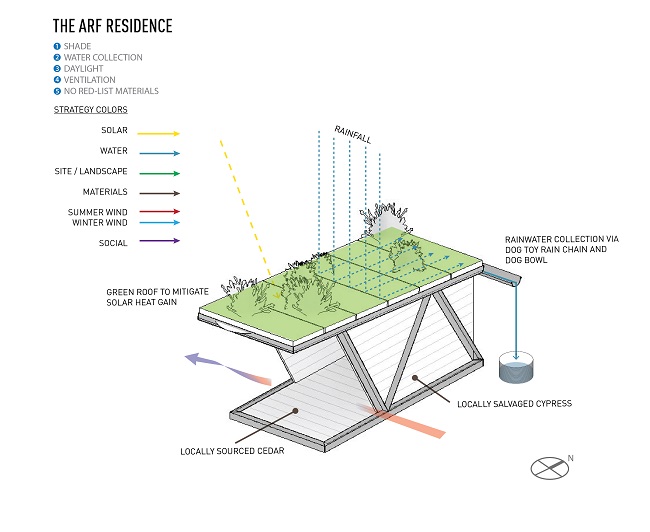 We then worked with the Rubiola Construction team to vet three different design options and get comments on the constructability of each.  Not only did Rubiola do a great job of bringing the details to life, they also did the shop drawings! The winning design incorporated a generous porch for hot summer days, a modular green roof to help mitigate solar heat gain, and rain water collection via a dog toy rain-chain into a doggie bowl.  
 The Construction Document Set
.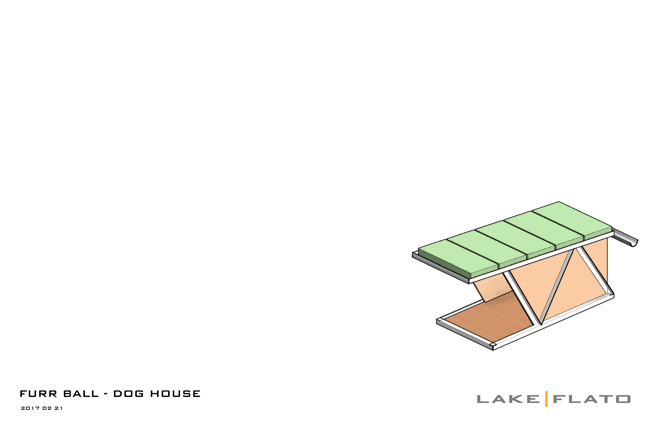 From the beginning, we wanted to treat this as a real Lake|Flato Project, with the IDC, sustainability goals, construction drawings, as well as construction administration and punchlisting before the auction
Construction Administration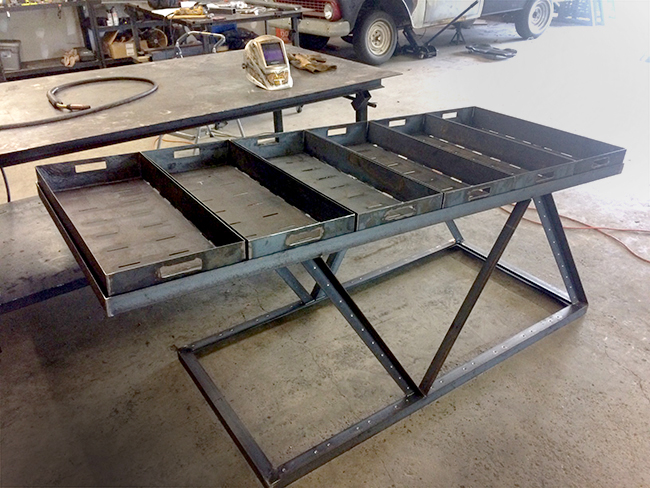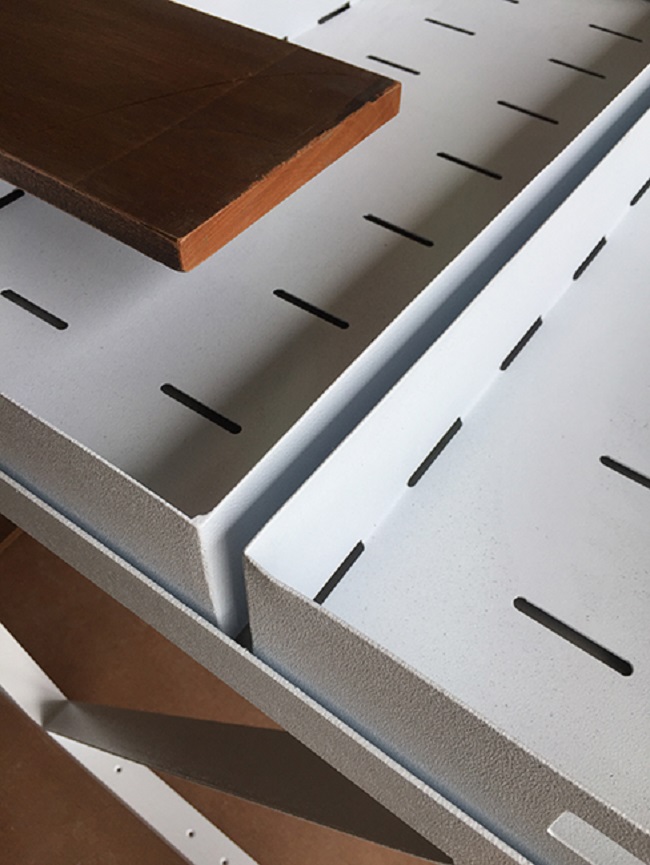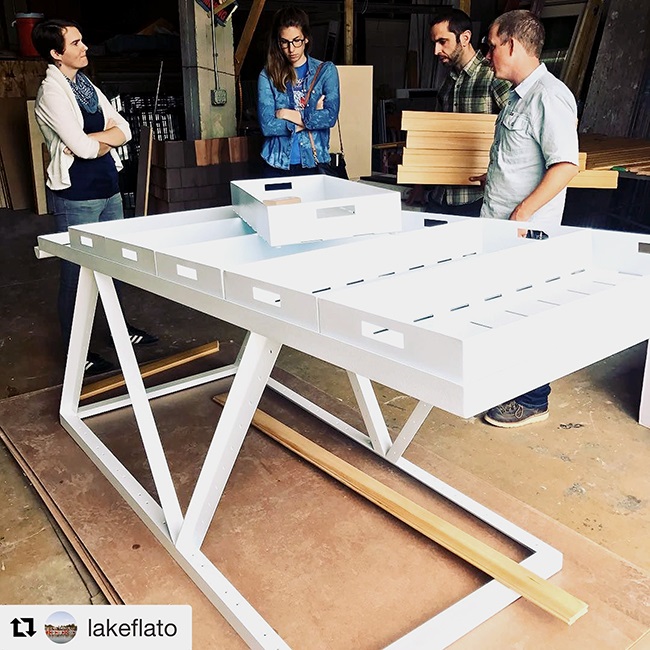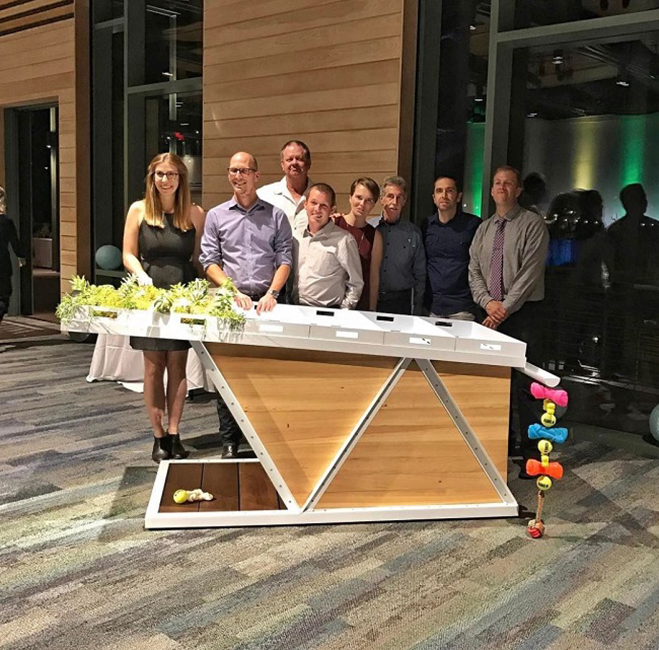 Special shout out to the larger team and these individuals who have touched the project and made the process really special and inspiring: Joe Woods for Aluminum pan material and installation (Woods Roofing and Sheet Metal) Matt O'Leary for the metal frame fabrication and powder coating (GTT Fabrication) Curt Temple for the carpentry work (Temple Craft LLC) The Arf Residence was auctioned off in a live auction during the annual Animal Defense League's Fur Ball on March 30, 2017. All proceeds from the auction supports the Animal Defense League of Texas.