THE DOGRUN
a place to share ideas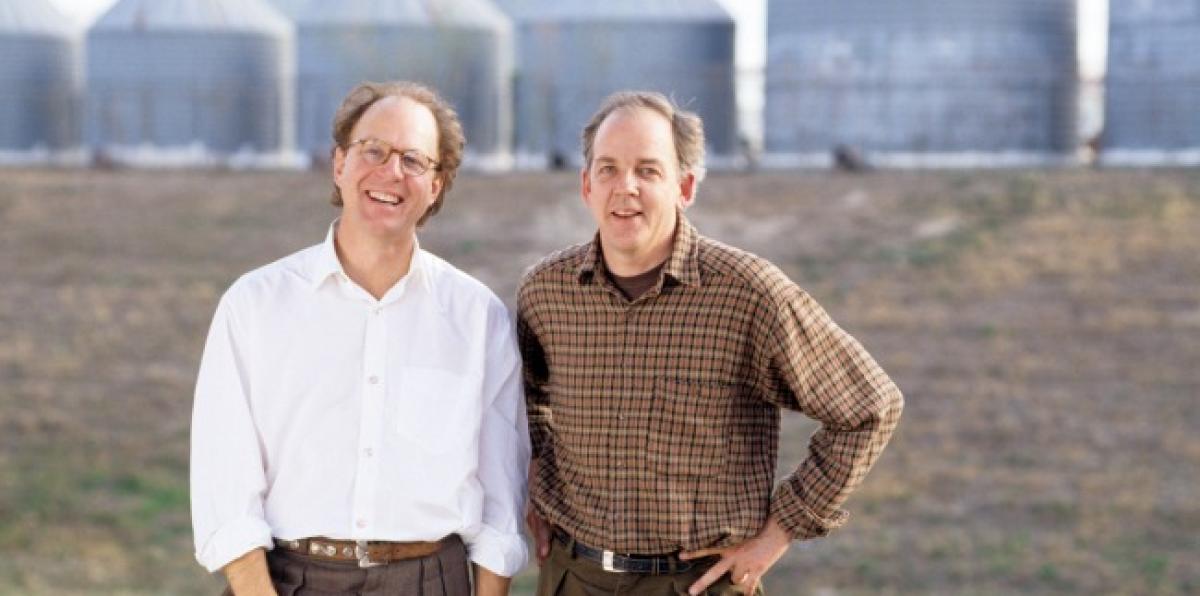 Posted by graceboudewyns on 3/17/14 at 9:31 am
In honor of Lake Flato's thirtieth anniversary, the Thirty Projects x Thirty Years series has been developed to explore and celebrate the firm's history and culture of design. Published bi-weekly, the series will highlight one project per year, starting  in 1984 and ending in 2014. The projects that have been selected will give you a snapshot of the  firm's evolution as well as provide a fun and insightful collection on then and now, and ultimately, who we are today.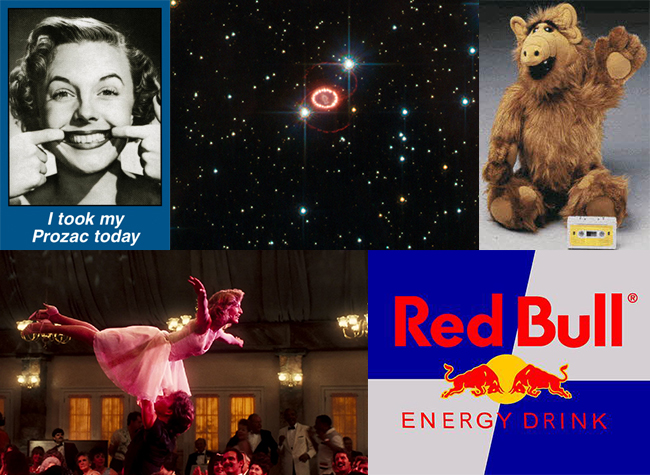 "Nobody puts 'Baby' in a corner." 
- Johnny Castle (a.k.a. Patrick Swayze) in
Dirty Dancing
 Nobody - and nothing - put Baby, Ted, or David in a corner in 1987.  Prozac and Red Bull were introduced to America, giving angsty architecture students everywhere wings. The first supernova since 1603 created a cosmic energy surge on par with a talking ALF on Christmas morning, and a few unsuspecting LFers were born: (1986) Corey Squire, Ben Hartigan, Jamie Sartory, Erica Goranson; (1987) Karla Edwards, Karno Widjaja.  
1986-87:  Fair Oaks Bank
By: David Lake
Fair Oaks Bank was our second building for Schreiner Bank and the first ground-up commercial building. The design reflects the continuing evolution of expressing the heavy main wall in contrast to the light and floating glass and steel structure.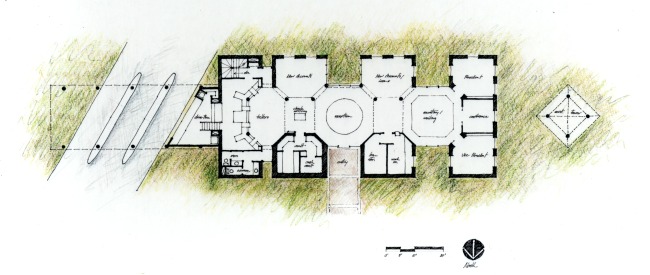 The site off I10 had a mott of oak trees which we protected and unlike Texas freeway buildings, the bank was quietly nestled in the oak canopy hidden from the freeway.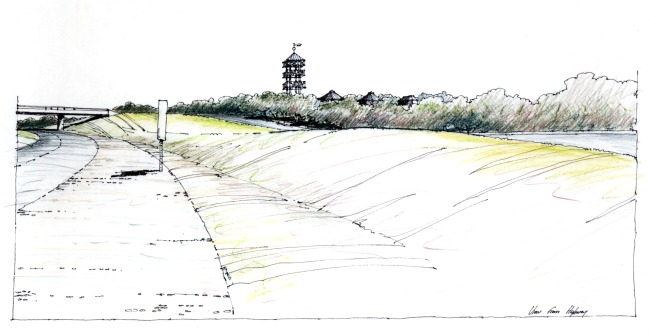 The German Smear Limestone walls dig into the hillside retaining earth and keeping the height of the stone wall to as low as four feet high. Punched openings pierce the mass walls while glass slots interrupt the stone and are capped by hovering metal roofs. The hexagonal roofs recall the metal grain silos found throughout Texas, but most notably, reflect the silos on the San Antonio River across from Ted's first house in King William.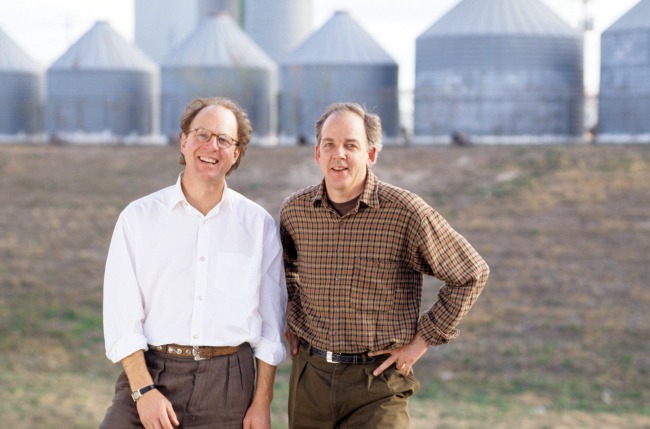 Inside the bank, the public spaces are daylit from the silo clerestories and the glazed slot bring balanced light and views into the bank.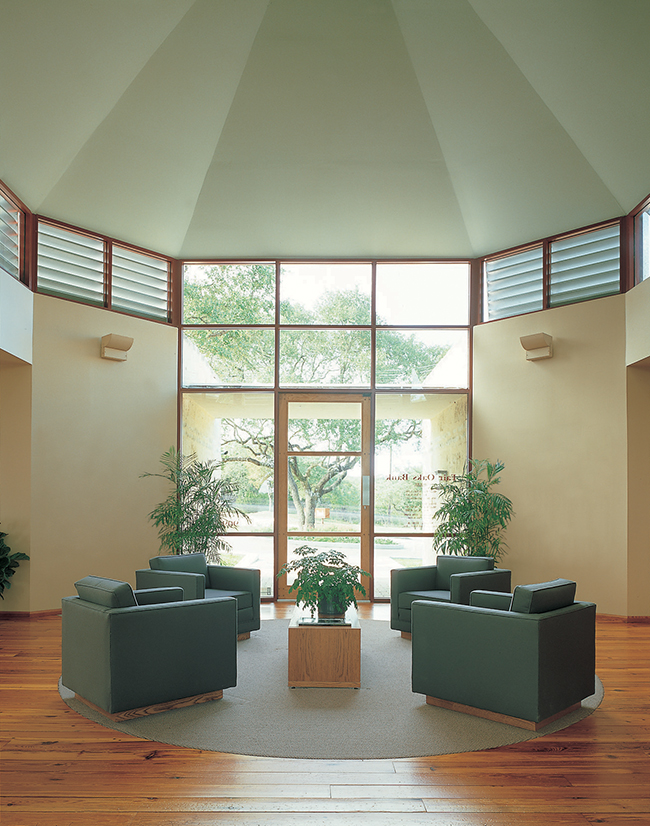 Earlier examples of the freestanding heavy mass walls were first tested on the Emily Lake residence in Austin and El Tule in South Texas.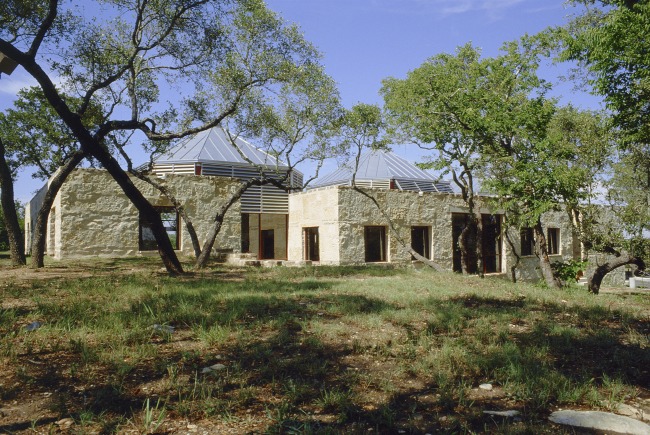 The Fair Oaks Bank diagram of quiet low stone walls in contrast to the lightweight and hovering steel and glass elements led to further refinements in the Northwest Branch Library and the Elm Court Residence. It is so gratifying to drive up I10 toward Boerne and see the oak trees flourishing and shadowing the quiet stone walls and silo roofs of the bank.