THE DOGRUN
a place to share ideas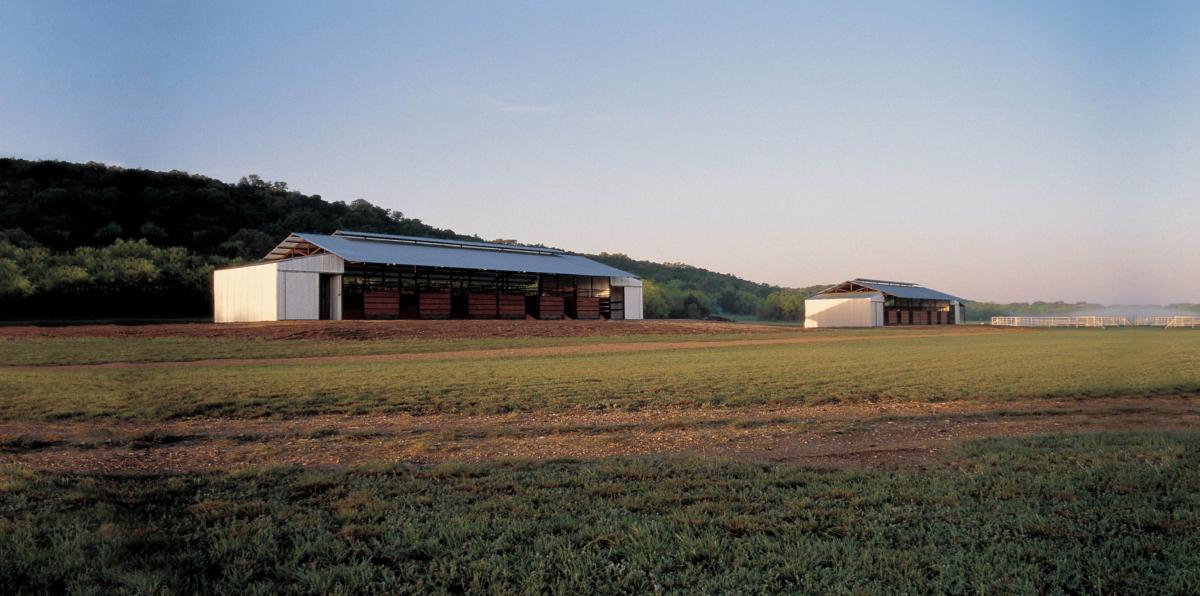 Posted by jvonderau on 8/14/14 at 5:02 pm
In honor of Lake Flato's thirtieth anniversary, the Thirty Projects x Thirty Years series has been developed to explore and celebrate the firm's history and culture of design. Published weekly, the series will highlight one project per year, starting in 1984 and ending in 2014.  The projects that have been selected will give you a snapshot of the firm's evolution as well as provide a fun and insightful collection on then and now, and ultimately, who we are today. 
This year MTV TRL - Total Request Live - is born, as many of us tune in after school to view Carson Daly deliver all the latest music news. After nine years, NBC sadly airs the Seinfeld finale, but HBO brings us hope as they begin airing the New York adventures of Carrie Bradshaw. Youngsters are spellbound by Harry Potter and the Sorcerer's Stone, reading into the wee hours of night. Armageddon is released forever associating it with the song I Don't Want to Miss a Thing while Madonna wins a video of the year award for Ray of Light. Things are quickly changing - Windows 98 debuts and Steve Jobs shows us the new iMac. This same year, Bill Aylor and Joe Ben 'Genius' join in on the LF shenanigans. Air Barns San Saba, Texas by Brian Korte The Air Barn was designed to provide a habitat for the client's string of polo ponies; in addition to shelter, each barn provides food and water for up to 12 ponies. The composition of two traditional open "pole-barn" structures, with deep roof overhangs, creates the housing portion of these barns. Solid-shed "saddlebag" forms flank each end, which contain tack and feed rooms. Originally there was a single barn, but as construction started the second barn was added, which is how it became the plural "Air Barns."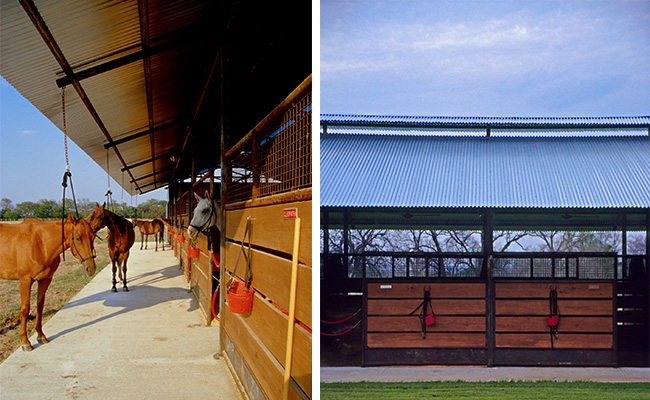 The project started as a simple napkin sketch then evolved into a hands-on collaboration with the Contractor (Jeff Truax) and his welders during construction. The construction documents were drawn by hand, on vellum, on an old drafting table that used to reside at my house. That table now lives on as a relic of this lost art at my workspace today. In the past, we had done previous work for the client and the barns were added alongside a few accessory support structures to house tractors, mechanical equipment, and livestock.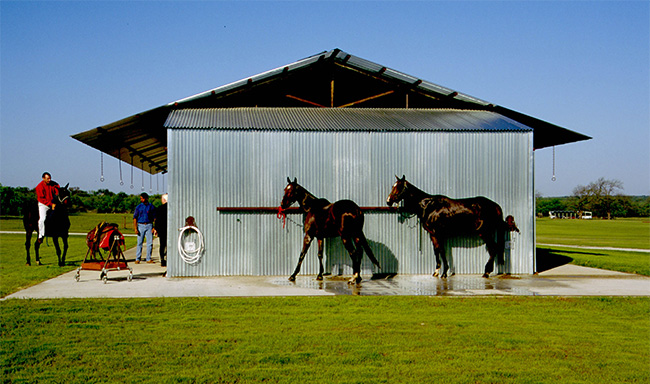 Sited along the edges of two open, sunny polo fields, the barns maximize shade while capturing the prevailing cool, coastal breezes. The barns are completely open-air, naturally ventilated on all sides through a continuous ridge vent (hence the name "Air Barns"). A generous 8'-0" deep overhangs creates additional shade.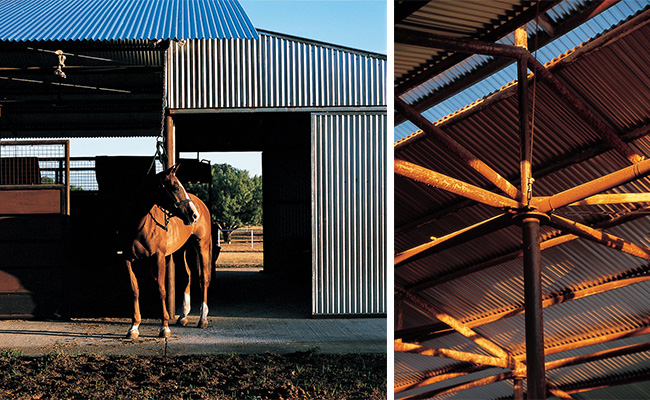 The project consists of only four materials in total, strong, durable, and maintenance free: weathered drill stem pipe, galvanized corrugated metal, 2×12 pine, and fly-ash concrete. Air Barns was one of the first projects that Lake|Flato built out of recycled drill stem pipe, which subsequently inspired later projects like Government Canyon and Cutting Horse Ranch. Running straight and strong, drill stem pipe exudes stability and integrity. You can find drill-stem pipe fences all over Texas, especially near oil fields. The pipe and the rod are oil-field surplus, one of the great recyclable natural resources of Texas. The pipe fence is primarily used for horses, because a high-strung horse can easily injure himself on barbed wire.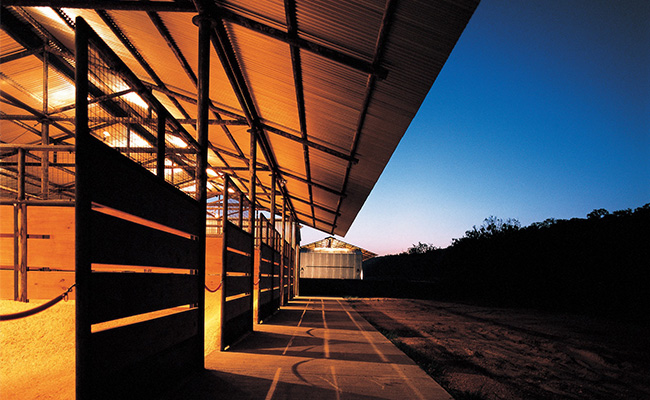 One of my favorite details is the rolling saddle rack. We had to make sure the edges of the steel plate were ground smooth enough to preserve the leather saddles. To quote the client, "if it cut's your hand it will cut the leather." All the steel connections were welded on site and the fabricators could essentially make anything we wanted, so that made the project quite fun during construction.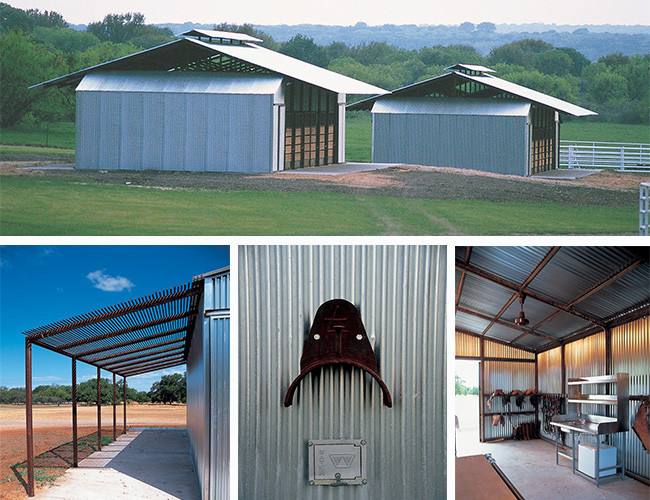 Air Barns offers an example of the sensitivity Lake|Flato displays toward form, materials, and siting of structures to maximize ventilation. The project elevated the firm with broad exposure in many state and national publications. It continues to be used as a precedent inspiring many current projects and detailing within the office.